"Not only did he save the day, he made it easy, worry-free and entertained our guests. It was a BIG hit!"
​
~ K. Eliason ⭐️⭐️⭐️⭐️⭐️
VANCOUVER PHOTO BOOTH RENTALS

You've got a story to tell, and we want to help you tell it. Our Vancouver photo booth rental service is built around your story and what makes you memorable. With our Magic Mirror and Digital Booth, we will tell your story in the most unique and memorable way!
WE TELL YOUR STORY

OUR AMAZING CLIENTS

THE PHONIX is the most trusted brand in Vancouver for party time. Our photobooth rental service is no different!
Find out why many businesses are eager to work with us for photo booth rentals!
Your photo booth time is the result of our 12 years of entertainment expertise combined with state-of-the-art technologies.
LET'S GET THIS PARTY STARTED!
QUESTION?
WE'VE GOT AN ANSWER.
Be sure to visit our FAQ page for all your questions regarding how to rent a photobooth, pricing for event entertainments, setup requirements and a lot more!
Mirror mirror on the wall, who's the most special of them all? YOU ARE! Come let us capture your party with our magic mirror photobooth! Built for elegance and built to stand out, this photobooth is guaranteed to turn heads.
Your guests will be in awe of your stunning event as they bask in their own glory.
CHOOSE
THE MIRROR THAT MAKES MEMORIES!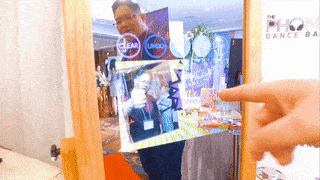 FAMOUS FOR OUR INTERACTIVE EXPERIENCE
Don't get the average bored-looking photo booth attendant at your event! With us, you will get a photobooth guy who is trained to keep the atmosphere lively and give you a fun, energetic, and entertaining time!
They will make your guests laugh, yell, and even Tetris to fit into a picture!
YOUR ALL-INCLUSIVE PACKAGE

Eric and his team were outstanding. Setup was seamless, and they were able to easily deal with a wave of demanding guests.
Super friendly group! Accommodated my theme really well and worked well with our schedule...The whole event wouldn't have been the same without them!
Their customer service and communication were prompt and courteous, even when I made a last-minute request to change the layout... I would not hesitate to hire them again and recommend them for any future event.