VANCOUVER PHOTO BOOTH RENTALS
"Not only did he save the day, he made it easy, worry-free and entertained our guests. It was a BIG hit!"
​
~ K. Eliason ⭐️⭐️⭐️⭐️⭐️
Vancouver photo booth rentals by The Phonix Inc. is NOT your average photobooth rental, the Magic Mirror tells your story in a unique and memorable way! Ready for all weddings, corporate events, and special occasions.
​
You can send your picture to your phone, email, and print it. You can even decorate your picture right on the mirror, or select from our many digital photo booth props.
​
Everything happens right at the tip of your fingers.
TAKE A PHOTO,
IT'LL LAST LONGER
Are you planning to entertain your guests and make memories of a lifetime? You've come to the right place!
​
Wedding, party, graduation and beyond. The photobooth captures your best moments and we are there to keep the fun going all night long.
A PHOTO IS WORTH A THOUSAND WORDS
A photo booth rental is the perfect wedding party favor!
​
Take home more than just a "thanks for coming" and give them something to remember you by. We'll put together a spectacular photo booth template that is designed just for you.
Something that will stand out from the crowd and say "this is us".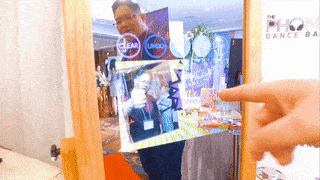 AN INTERACTIVE EXPERIENCE
Your photo booth rentals experience is important to us. We strive to fill you with a sense of wonder and creativity every time you interact with the magic mirror, giving you an experience you can see, feel, and touch.
OUR AMAZING CLIENTS
We love working with local businesses as well.
THE PHONIX is the most trusted brand in Vancouver when it comes to putting on a show. Our photobooth rental is no different. Find out why many businesses are eager to work with us for photo booth rentals!
The magic mirror photo booth experience is the result of 10 years of entertainment expertise combined with state of the art technologies.
THIS WE PROMISE
A one-of-a-kind event entertainment service that is designed for you entirely from scratch. Never do we use the same photo booth layout twice.
We guarantee the best price in Vancouver photo booth rentals. If you managed to find the same service for cheaper elsewhere we will beat that by 10%!
THEY LOVE THE PHONIX
Rated 5 out of 5 by costumers
FIND OUT HOW
PHONIX PHOTO BOOTH WILL CHANGE YOUR EVENT!
GOT A QUESTION? WE'VE AN ANSWER.
Be sure to visit our FAQ page for all your questions regarding how to rent a photobooth, pricing for event entertainments, setup requirements and a lot more!