VANCOUVER PHOTO BOOTH RENTALS
JUST GOT

THIS MUCH BETTER!
Your search is over. This is the second most important thing you'll need for your event.
​
Let me take you on an interactive adventure. Go ahead, touch the magic mirror to start your journey:
​
Through hi-tech wizardry, it combines pictures of your awesome party time with a colorful and unique photo template that was designed just for you. Putting your finger on the screen, you carefully drag and drop hi-tech digital props onto your picture (yes, we have props, and it's hi-tech!), and decorate it by tracing the shape of a heart in the background.
It then magically transports the pictures to your phone, email, and print. And the memories of your party live happily ever after. This is not just photo booth rentals, it's event entertainment at it's best.
​
When it comes to Vancouver photo booth rentals, magic is best when it happens in your hands... LITERALLY.
THE PHONIX PHOTO BOOTH
IS BROUGHT TO YOU BY:
NOT JUST PHOTO BOOTH RENTALS
You can do much better than to rent another piece of "furniture" for your event. Remember, the photo booth is not a sofa. You want to throw one heck of a party for your friends and family. You want to entertain and to make memories of a life time. Get a photo booth service that is FUN, interactive, and that looks like a mirror!
A PHOTO BOOTH IS WORTH
A THOUSAND WORDS
Take home more than just a "thanks for coming"! We will help you put together a spectacular event and spark conversations with a specially designed photo layout template. Something that will stand out from the crowd and say "this is us".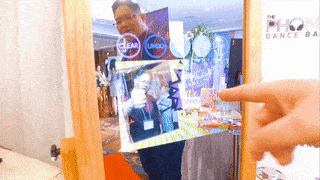 AN INTERACTIVE EXPERIENCE
Just like going to the candy store or the arcades. Our photo booth will fill you with a sense of wonder and creativity, and take you on an adventure with an ever so entertaining booth attendant! It is an experience you can feel and touch. Kids love it, adults love it, grandmas approved!
Find out why companies and businesses like UBC, BCIT, Capilano University, Royal Vancouver Yacht Club, RE/MAX, and Long & McQuade choose to go with the Phonix Photo Booth when thinking about photo booth rentals! THE PHONIX is one of the most trusted brands in Vancouver when it comes to putting on a party. This is not just photo booth rentals, it's 10 years of entertainment expertise meet state of the art technologies.
More than Just Vancouver Photo Booth

Rentals
Have you seen us in action yet? When it comes to event entertainments, find out what separates us from the rest. We really wish we could bring you with us to all of our fun photo booth gigs; but fear not, please enjoy our latest demo video as we take you on a REAL photo booth gig! Want to see more? Click here to watch our demo videos.
HEY, VANCOUVER!
FIND OUT HOW OUR
MAGIC MIRROR PHOTO BOOTH WILL CHANGE YOUR EVENT!
Ask us about our best price guarantee!